News & Events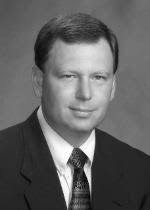 Pat Keenan picked for Community Foundation award
J. Patrick Keenan will receive Mid-Nebraska Community Foundation's "Above and Beyond Award" at the Foundation's "Red & Black" recognition event Friday night, February 2.
Community Foundation president Kimberly Steger praised the personal qualities of Keenan along with his extraordinary commitment to the Community Foundation and to many other community and state organizations.
 Keenan has served 14 years on the Community Foundation's Board of Directors.  He currently serves as Vice President and has been a long-time member of investment and grant committees.  Pat and his wife Kathleen established a charitable fund at the Community Foundation that has helped a great many worthy local causes, Steger said.
Keenen was born in North Platte and graduated from St Pat's High School and the University of Nebraska-Lincoln.  For many years, he worked in the soft drink industry at Great Plains Bottlers and Canner until he and his brothers sold the business in 1998.  
Keenan currently is manager of Keenan Management LLC which owns and operates hotels and develops commercial property.  Locally he is involved with Hampton Inn, Fairfield Inn and with building a new Tru by Hilton Hotel.  
Keenan also serves on the City's Quality Growth Fund Committee, the statewide Economic Development Strategy Steering Committee and on the Boards of Sandhills State Bank and the Platte Institute for Economic Research.
He is past president of the Nebraska Soft Drink Association, past chair of Board of Great Plains Regional Medical Center and past president of North Platte Development Corporation.  
Keenan received the William Booth Award in recognition of over 25 years of services to the Salvation Army, including leadership of the organization's local Board of Advisors and the campaign to build the local Salvation Army Center.
Pat and his Kathleen were named to the North Platte Catholic Schools' Wall of Honor for their long-time service and many contributions including leadership in the campaign for building McDaid Grade School and McGahan Activity Center.
Keenan commented, "We have a great community with lots of people doing things that benefit the entire community.  It is tremendous what the funds of the Community Foundation have done to help so many people in this area."
 "We are excited to honor Pat Keenan for how he has supported our mission to help worthy causes.  Both Pat and his wife Kathleen have been remarkable in making this community a better place in many ways," said Eric Seacrest, Executive Director of the Community Foundation.
On Friday evening, February 2, Mid-Nebraska Community Foundation will hold its annual "Red & Black" buffet event at the Holiday Inn Express.  During the event there will be recognitions and entertainment.  For reservations to attend the event, call 534-3315.  
The Community Foundation administers and awards scholarships and grants to nonprofit causes from more than 275 charitable funds, each with its own charitable purpose.
For more information about Mid-Nebraska Community Foundation, contact Eric Seacrest, executive director at: Office 534-3315, Cell 530-3663.
Community Foundation elects officers for 2017-18
Kimberly Steger was elected president of Mid-Nebraska Community Foundation for its new fiscal year, succeeding Larry Stobbs.  Other officers elected by the Community Foundation's Board of Directors are: J. Patrick Keenan, vice president, and Dan O'Neill, secretary-treasurer.
"It's wonderful how the Community Foundation helps generous people, worthy nonprofits and good projects." Steger said.  While it continues to grow, the Community Foundation currently administers more than 275 separate charitable and scholarship funds.  
Steger is Vice President and Commercial Loan Officer at Equitable Bank in North Platte.  She grew up on a ranch in western South Dakota and graduated from Blackhills State University in South Dakota.  She and her husband Gary moved to North Platte in 1982 and raised two children here, Jordan and Taylor.
Steger has served ten years on the Community Foundation's Board of Directors.  "It's a very rewarding board to serve on," she said.
She also serves on the North Platte Quality Growth Fund Citizen's Review Committee and is a member of North Platte Chamber Hostesses and North Platte Rotary Club.   
Steger previously served on and chaired the North Platte Area Chamber and Development Board as well as the Salvation Army Advisory Committee.
Mid-Nebraska Community Foundation primarily serves North Platte, Lincoln County and the eight adjacent counties.  In the past 12 months, the funds of the Community Foundation paid out well over $1 million in scholarships for college students and grants to non-profit organizations.  The Community Foundation administers charitable funds for many nonprofit organizations.
 "There are many advantages to donors and their advisors in working with the Community Foundation," according to Eric Seacrest, Executive Director.  "Most of the funds administered by the Community Foundation are lasting legacies for donors that support charitable causes in a tax-advantaged manner."  The Community Foundation also administers charitable funds for many other nonprofit organizations.