News & Events 
Donate to Nebraska Disaster Relief and Response
Many charitable people want to help with relief and response to Nebraska flooding. Below is a list of public charities working on these efforts.  
A tax-deductible donation to a qualified public charity helps assure donors of accountability, reporting, and oversight.  
Grand Island Community Foundation  
(greater Hall, Howard, and Sherman Counties) Designate the Central Nebraska Disaster Relief Fund
The unprecedented combination of rain, blizzard, and flooding have set the stage for enormous personal and economic disaster—and for the perfect opportunity for neighbors to reach out and help neighbors across area communities.
American Red Cross - Donations 
Phone: 1-800-RED CROSS 
Text: Text the word REDCROSS to 90999 to make a $10 donation 
 
American Red Cross – Volunteering 
The Red Cross uses the power of volunteers to help people prevent, prepare for and respond to emergencies. There are positions available for people of every age, interest and physical ability.
Catholic Social Services of Southern Nebraska 
Or mail check to them at 2241 O St, Lincoln, NE 68510 and put "flood relief" in the memo. 
Nebraska Farm Bureau 
Nebraska Farm Bureau established a Disaster Relief Fund at the Nebraska Farm Bureau Foundation to provide emergency aid to Nebraska farmers, ranchers, and rural communities affected by recent storms and flooding.
Thousands of our neighbors in Nebraska and Iowa need our help as flooding displaces families, destroys homes and devastates communities. 100% of every donation to the Nebraska/Iowa Flood Relief Fund will be directed to nonprofit programs meeting people's needs for emergency shelter, food and more. Donors will have the opportunity to direct their gift to a specific community within Nebraska or Iowa if they so wish.
United Methodist Committee on Relief 
100% of all funds go towards the Nebraska floods if you use the code #975/420101. 
 
Nebraska Cattlemen Disaster Relief Fund
Nebraska Cattlemen is working to assist cattle producers impacted by natural disasters by launching a new disaster relief fund.​​​​​​​
 
Above and Beyond Award to Tom Hansen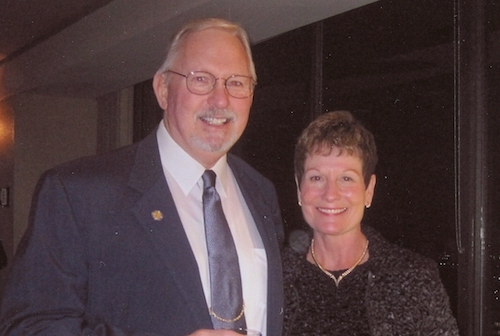 Tom Hansen (Left) and wife Linda (Right)
Beginning in 1991, Mid-Nebraska Community Foundation has honored people whose efforts on behalf of the Community Foundation and the North Platte area have been far "Above and Beyond" the norm.
Thomas Hansen is this year's recipient of the Above and Beyond Award because of his personal qualities, his long-time commitment to the Community Foundation and his extraordinary service to his community and state.
Hansen served 6 years on the Community Foundation's Board of Directors.  Tom and his wife Linda were instrumental in the establishment of more than one charitable fund at the Community Foundation benefiting people and worthy causes in this region.
Tom moved back to the 77 Ranch with Linda in 1970 after graduating from the University of Nebraska-Lincoln.  The 77 brand of the ranch is the oldest brand in Nebraska still listed under the same family name.  The 77 Ranch has received the Outstanding Grassland Conservation Award by the Nebraska Association of Resource Districts.
Tom and Linda hosted the 1995 Cattleman's Ball of Nebraska at the 77 Ranch and raised significant funds for cancer research.
In 1999 Tom had back problems and surgery that caused him to retire from hard ranch work while continuing to help out and to handle bookwork for the ranch.
Tom was elected State Senator in 2006 representing Lincoln County in the Nebraska Legislature and he won reelection in 2010.  He represented a legislative district that was both rural and urban with sometime conflicting local interests.
He has served many years on the Board of the Nebraska Cattlemen including serving as president.  He also served on the Boards of Nebraskaland Days and Twin Platte Natural Resource District.
Hansen was inducted into the Nebraska Cattlemen Hall of Fame and he was honored as a Distinguished Alumni of North Platte High School.
Tom and Linda have two sons, Eric and Marshall, and six grandchildren.
Wherever Tom goes he shares his pride in his family, in the community of North Platte and in the rural life and landscapes of Lincoln County.
Community Foundation re-elects officers for 2018-19
Kimberly Steger was re-elected president of Mid-Nebraska Community Foundation for its new fiscal year beginning June 1.  Other officers re-elected by the Community Foundation's Board of Directors are: J. Patrick Keenan, vice president, and Dan O'Neill, secretary-treasurer.
"It's wonderful how the Community Foundation helps generous people, worthy nonprofits and good projects." Steger said.  While it continues to grow, the Community Foundation currently administers more than 275 separate charitable and scholarship funds.  
Steger is Vice President and Commercial Loan Officer at Equitable Bank in North Platte. 
Steger has served eleven years on the Community Foundation's Board of Directors.  "It's a very rewarding board to serve on," she said.
Several new directors were elected to the Community Foundation's Board of Directors.  New directors are: Travis Covey, Rodney Dye, Lindsay Pedersen, Sam Perry, Susan Ries, Maris Schad and Joe Staroska. 
Mid-Nebraska Community Foundation primarily serves North Platte, Lincoln County and the eight adjacent counties.  In the past 12 months, the funds of the Community Foundation paid out well over $1 million in scholarships for college students and grants to non-profit organizations.  The Community Foundation administers charitable funds for many nonprofit organizations.
 "There are many advantages to donors and their advisors in working with the Community Foundation," according to Eric Seacrest, Executive Director.  "Most of the funds administered by the Community Foundation are lasting legacies for donors that support charitable causes in a tax-advantaged manner."  The Community Foundation also administers charitable funds for many other nonprofit organizations.
2018 Housing Study for Lincoln County and North Platte
The results of the 2018 Housing Study for Lincoln County and North Platte have been released.  The study was authorized by five funding partners, including the Mid-Nebraska Community Foundation, to get the facts, statistical analysis and future recommendations on addressing housing issues in our community.  It was prepared by Marvin Planning Consultants. For a copy of that study, please click the link below.