News & Events 
RED & Black Buffet Party 
Click Here to Make your Reservation 
Friday, February 1 Starting at 5:30 p.m.
Holiday Inn Express Convention Center -  North Platte
Enjoy an evening of...
-Great food and hors d'oeuvres
-Two glass of wine or other beverage included with admission
-Live musical entertainment
-"Above & Beyond Award"
-Recognitions & remembrances short program at 7:00 p.m.
-Suggested attire business casual
Please respond by Tuesday, January 29.
Please call us if you have any questions.   534-3315.
Above and Beyond Award to Tom Hansen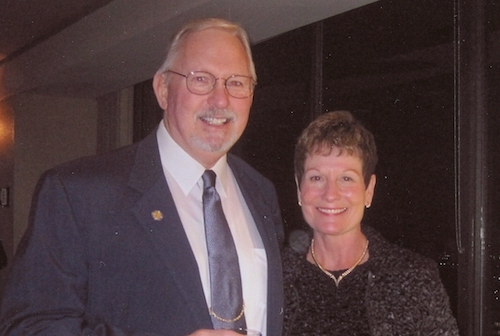 Tom Hansen (Left) and wife Linda (Right)
Beginning in 1991, Mid-Nebraska Community Foundation has honored people whose efforts on behalf of the Community Foundation and the North Platte area have been far "Above and Beyond" the norm.
Thomas Hansen is this year's recipient of the Above and Beyond Award because of his personal qualities, his long-time commitment to the Community Foundation and his extraordinary service to his community and state.
Hansen served 6 years on the Community Foundation's Board of Directors.  Tom and his wife Linda were instrumental in the establishment of more than one charitable fund at the Community Foundation benefiting people and worthy causes in this region.
Tom moved back to the 77 Ranch with Linda in 1970 after graduating from the University of Nebraska-Lincoln.  The 77 brand of the ranch is the oldest brand in Nebraska still listed under the same family name.  The 77 Ranch has received the Outstanding Grassland Conservation Award by the Nebraska Association of Resource Districts.
Tom and Linda hosted the 1995 Cattleman's Ball of Nebraska at the 77 Ranch and raised significant funds for cancer research.
In 1999 Tom had back problems and surgery that caused him to retire from hard ranch work while continuing to help out and to handle bookwork for the ranch.
Tom was elected State Senator in 2006 representing Lincoln County in the Nebraska Legislature and he won reelection in 2010.  He represented a legislative district that was both rural and urban with sometime conflicting local interests.
He has served many years on the Board of the Nebraska Cattlemen including serving as president.  He also served on the Boards of Nebraskaland Days and Twin Platte Natural Resource District.
Hansen was inducted into the Nebraska Cattlemen Hall of Fame and he was honored as a Distinguished Alumni of North Platte High School.
Tom and Linda have two sons, Eric and Marshall, and six grandchildren.
Wherever Tom goes he shares his pride in his family, in the community of North Platte and in the rural life and landscapes of Lincoln County.
Community Foundation re-elects officers for 2018-19
Kimberly Steger was re-elected president of Mid-Nebraska Community Foundation for its new fiscal year beginning June 1.  Other officers re-elected by the Community Foundation's Board of Directors are: J. Patrick Keenan, vice president, and Dan O'Neill, secretary-treasurer.
"It's wonderful how the Community Foundation helps generous people, worthy nonprofits and good projects." Steger said.  While it continues to grow, the Community Foundation currently administers more than 275 separate charitable and scholarship funds.  
Steger is Vice President and Commercial Loan Officer at Equitable Bank in North Platte. 
Steger has served eleven years on the Community Foundation's Board of Directors.  "It's a very rewarding board to serve on," she said.
Several new directors were elected to the Community Foundation's Board of Directors.  New directors are: Travis Covey, Rodney Dye, Lindsay Pedersen, Sam Perry, Susan Ries, Maris Schad and Joe Staroska. 
Mid-Nebraska Community Foundation primarily serves North Platte, Lincoln County and the eight adjacent counties.  In the past 12 months, the funds of the Community Foundation paid out well over $1 million in scholarships for college students and grants to non-profit organizations.  The Community Foundation administers charitable funds for many nonprofit organizations.
 "There are many advantages to donors and their advisors in working with the Community Foundation," according to Eric Seacrest, Executive Director.  "Most of the funds administered by the Community Foundation are lasting legacies for donors that support charitable causes in a tax-advantaged manner."  The Community Foundation also administers charitable funds for many other nonprofit organizations.
2018 Housing Study for Lincoln County and North Platte
The results of the 2018 Housing Study for Lincoln County and North Platte have been released.  The study was authorized by five funding partners, including the Mid-Nebraska Community Foundation, to get the facts, statistical analysis and future recommendations on addressing housing issues in our community.  It was prepared by Marvin Planning Consultants. For a copy of that study, please click the link below.